One of the most important aspects of running a business is customer service, which most of the time includes calls.
However, when you're making these calls 24/7, and especially if there's a whole support team - your business phone service bill can total up to overwhelming sums of money.
Not to mention, keeping in contact with international clients often becomes a major issue with traditional cell phone service providers.
Consequently, business savvy individuals start looking for ways to cut down on costs, and improve the convenience of their business mobile phone.
Several companies have come out with alternative services that allow workarounds for the issue of pricey corporate calls.
POND IoT has made it the top priority to make sure that our clients are getting the best business phone service possible.
Of course, when contacting your clients, you realize the importance of privacy, and one of the biggest perks with POND IoT Business is our effort to guarantee secure calls.
We also provide you with extra useful features like Smart Caller ID, which is able to detect a vast number of callers and provide you with an adequate identification.
Using POND IoT business phone number, you're avoiding international roaming charges altogether.
One of the biggest advantages of our cell phone service is the fact that you don't receive any roaming charges - by paying for a single-payment plan that includes both unlimited calls and 3G/LTE.
You're able to reach people abroad and travel anywhere in the world with global roaming, while also maintaining contact with anyone in a reliable and convenient way.
Check out our list of available plans on the website, and maximize the efficiency of your business call phone communications today!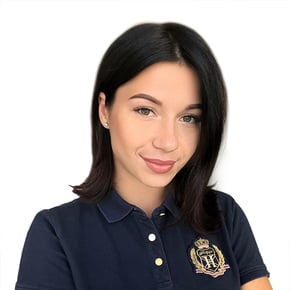 Lolita Vyshniak
Lolita Vyshniak, Leading Channel Manager. Lolita has a master's degree in management and logistics and has extensive research experience in building healthy relationships with clients.