Traveling for work on a budget sometimes seems like an impossible feat, but there are actually quite a few steps you can take to optimize your corporate expenses:
1. Plan in advance
Take time to plan out the allowances and tweak everything, even the fundamental essentials: how you can cut down the price of the accommodation while still keeping it at a comfortable and convenient level, set a limit for meals and on-site spending - this is going to benefit you a lot when it actually comes to booking and so on.
2. Seek out cheaper ticket options
Transportation tickets, especially when it comes to airplanes, can be incredibly pricey, therefore you need to be very smart with what you're purchasing. There are several good tools that help you track the prices of different airlines for set dates, like Skyscanner.com - they can really come in handy.
3. Research your hotels
Sites like Booking.com allow you to check and compare prices of hotels so you'll be able to make sure that you're getting the best deal possible. Also, to prevent unnecessary spending, set a strict price range while searching.
4. Delegate the tasks
Organizing the trip can prove to be very time-consuming, and by putting travel plans responsibilities onto the employees that are going into that business trip, you're making it difficult for them to perform their actual job responsibilities. If possible, delegate the travel arrangement tasks to an accountant, office manager, or better yet - use travel management services.
5. Use cell phone carriers with good roaming data plans
Using data and making calls in roaming often costs a pretty penny, which is especially unfortunate since most carriers provide you only with stable 2G, and 3G or LTE will land you with additional charges.
POND IoT, however, guarantees you unlimited LTE data with no charges over the actual data plan, consistently operating in 200+ countries.
Hope these will really come in handy to you on your next corporate trip!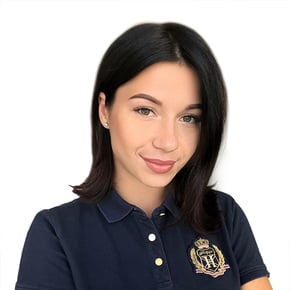 Lolita Vyshniak
Lolita Vyshniak, Leading Channel Manager. Lolita has a master's degree in management and logistics and has extensive research experience in building healthy relationships with clients.